During SeaTac Airport's peak hours for incoming flights (9pm to 11pm, daily) the Arrivals drive is frustratingly gridlocked and the sidewalks, crowded. Still, not even the worst days can compare to the peak hours during the holiday season. Expect those backups to grow longer and extend throughout the entire evening. Navigating SeaTac during the holidays is undoubtedly a grisly feat, but fear not, weary driver! There are other ways to complete your mission.
Passenger Pickup 101 - The Basics
Pass on the left. The Arrivals drive has two through lanes at the entrance, but it is the right lane that is nearly always backed up, leaving the left lane generally moving well.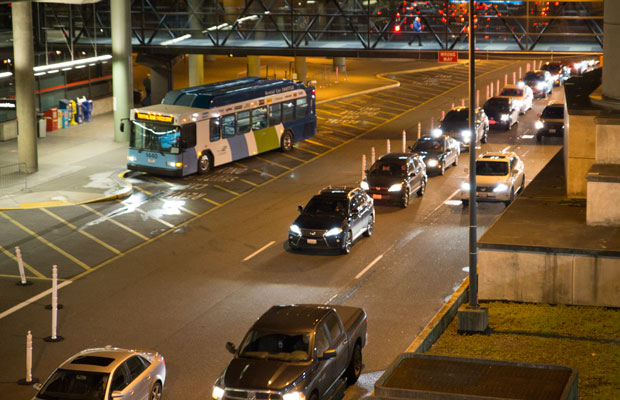 Alaska Airlines is the first airline on the arrivals drive - where more than 50% of all airline passengers are arriving - causing a back up in the right lane well before you near the Arrivals drive. If your passengers are flying another airline, zoom past traffic in the left lane. If your passengers are flying Alaska, encourage them to walk down a few doors to the first opening where you can pick them up easily.
Be a contrarian. When the herd is going left (down to the Arrivals drive) you go right (up to the Departures drive). It's usually much quicker for your passengers to go up one more escalator than it is trying to fight the crowds on the Arrivals drive. This also works great in reverse: when the Departure drives are crowded, drop off on the Arrivals drive.
How much stress relief does $4 buy? That's what it will cost you to park for one hour in the SeaTac Airport parking garage Terminal Direct floor. From there it's a straight shot to the sky bridge, allowing all of you generous folks the option to meet your arriving guests and help them carry their luggage. If you want to save a buck, $3 will get you an hour on one of the other garage floors.
Passenger Pickup 201 - Where to Hang Out
SeaTac Airport has a cell phone lot (off the Air Cargo road exit and South of 170th Street from Doug Fox Parking) [map], although generally a great place to wait for a flight, this is not a reliable option during the holiday rush due to the limited number of spaces. Imagine the Costco parking lot on Saturday morning, but with a tenth of the parking spots.
On average, it takes 15 minutes for a passenger to get to either the Arrivals or Departure drives after they've touched down. Where else can you be within a comfortable 15-minute drive of the airport? Southcenter shopping mall is close by, but that can be almost as crowded as the airport. Here are my favorites:
13 Coins Restaurant Directly East of the airport [map]. What better way to treat the driver than a nice meal or dessert? Parking is free and you are just a few minutes from the SeaTac. Can be a little spendy but it is a treat, right?
Burien. You'd be surprised at the number of great coffee shops, restaurants and pubs in easy-going Old Town and Main Street Burien.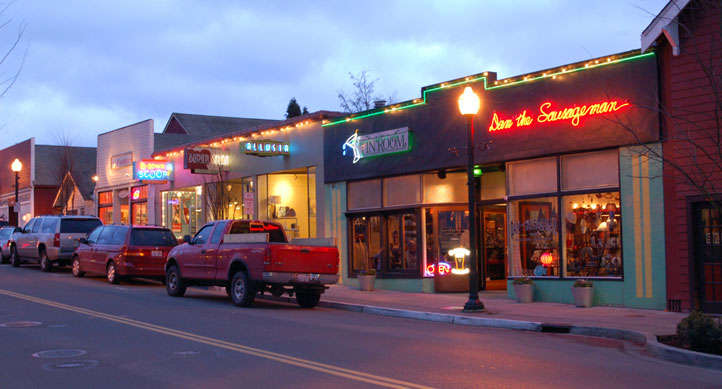 Parking (usually right in front of your chosen establishment) is free, prices are very reasonable and you are an easy 10 minutes from the airport. Try the Press coffee shop, 909 Coffee and Wine (excellent meals too), Tin Room, Greek House, Elliot Bay Pub, or the Grand Central Bakery.
Passenger Pickup 301 - Let them Come to You
You can avoid the gridlock at the terminal entirely. This means a little more effort from the passenger, but during the airport's busiest hours these tips will save you huge amounts of time and stress. Assuming your passengers are traveling light, they might be more apt to stretch their legs and come to you. Here are three easy options for having your passenger meet you outside of a gridlocked terminal:
13 Coins / Radison Hotel Bar and Grill / Gregory's Bar and Grill. [map] A short 3 to 4-minute walk past the end of the Arrivals drive and directly across International Blvd are several establishments where you can wait for your passenger. Be advised: most of the walk is uncovered.
SeaTac Light Rail Station Kiss and Ride Curb. [map] The SeaTac light rail station has a Kiss-and-Ride curb just East of International Blvd on South 176th Street where you can swoop in to pick up your passenger and make a clean getaway.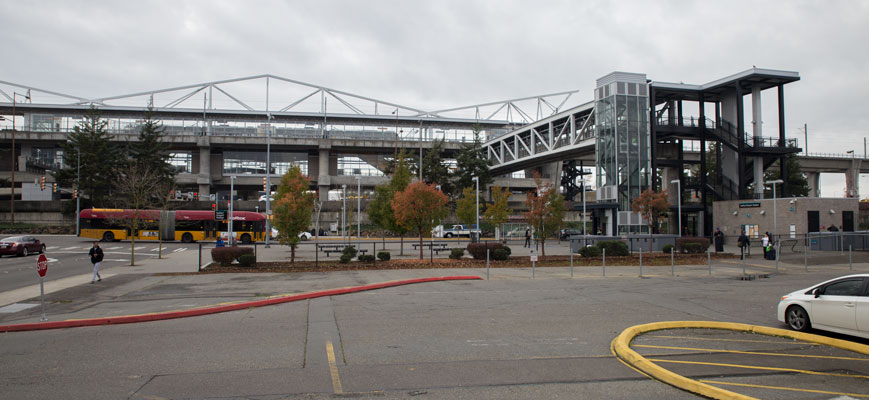 Have your passenger follow the signs to the light rail station and continue through to the sky bridge over International Boulevard to get to the Kiss-and-Ride curb. It's a 4 to 5-minute, entirely covered walk making this the best option during bad weather. Be advised: there are only a couple of places to park at the Kiss-and-Ride turn out and the limit is 15 minutes. For advice on where to park while you wait, see the Where to Hang Out section above.
A variation on the SeaTac Light Rail Station is to have your passenger take the light rail one stop to the Tukwila International Blvd Light Rail Station. [Map] This location has very convenient freeway access and a large parking lot as well as an overflow lot where you can park and wait for free.
---
It's the most wonderful time of the year, but also the most chaotic. While holiday season travel can make trips to the airport downright unbearable, you can relieve a little stress by thinking outside the box. Give one of these tips a try and focus on what really matters this holiday season. Travel safely and happy holidays!
Do you have a favorite of your own you'd like to share? Leave a comment below.